TIMNA
"Timna´s debut album is now available on all digital platforms!. Check out MundosMusic's YouTube channel for videos of the tracks"
now available in all digital platform

Watch Angie Cadenas' new video #QueDure
MUNDOSMUSIC - SE VISTE DE PRADA
Un proyecto de cooperación internacional a distancia en tiempo de pandemia, que nos invita a celebrar el trabajo de la gran Ana Prada.
Artistas de distintos países, en distintas ciudades, poniendo sus voces a las canciones de la cantautora uruguaya.

Disponible en todas las plataformas digitales.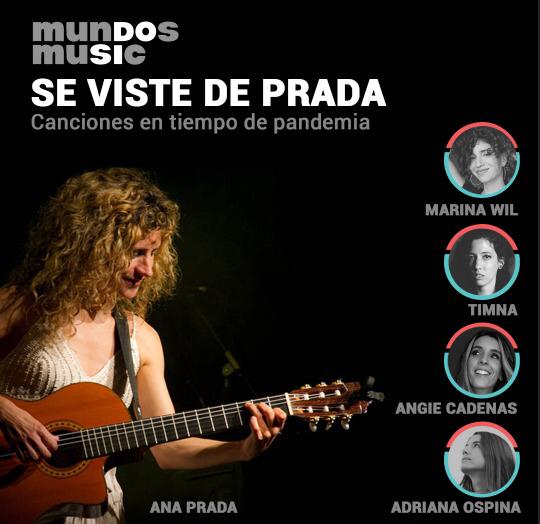 This new video is getting thousands of views and extremely positive comments.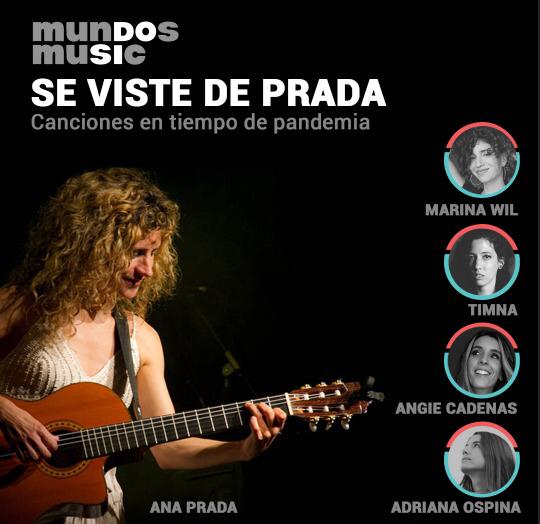 MundosMusic
se viste de Prada
A remote international cooperation project in times of pandemic, which invites us to celebrate the work of the
great Ana Prada.
Artists from different countries, in different cities, putting their voices to the songs of the Uruguayan singer-songwriter.
SOLO SOY – ANGIE CADENAS
Debut album of the Argentine singer-songwriter. Recorded in its entirety in quarantine, it contains collaborations by artists such as Silvina Moreno anda Paz Carrara.
RESPIRAR – Adriana Ospina
With all original songs mostly in Spanish, "Respirar" displays Adriana's velvety vocals, highlighted by her brother Juan Andrés masterful arrangements. Few of today's artists can offer such a solid and yet subtle interpretation attracting a wide range of audiences regardless of their age and origin.
I YO EU – Timna
"I Yo Eu" is a delicious mixture of musical languages reflecting Timna Comedi´s unique versatility while highlighting her extraordinary voice. Lead by an afro electro beat that dialogues with Brazilian percussion and compelling harmonies, this album is a masterpiece result of a special collaboration with renowned music producer Jair Oliveira.
Este mensaje de error solo es visible para los administradores de WordPress
Error: Las solicitudes de API se están retrasando para esta cuenta. No se recuperarán nuevas entradas.
Inicia sesión como administrador y mira la página de configuración de Instagram Feed para obtener más detalles.

MundosMusic@Home is the possibility to bring any of all these amazing artists from all around the globe to perform a concert at your own home.
read more